One Of The
Best Places To Visit In Hyderabad
Is Surendrapuri
If you are looking for an ideal way to spend your weekend, look no further than Surendrapuri, one of the best places to visit in Hyderabad and so much fun! Situated 10 kilometers from the Bhuvanagiri Railway station and 2 kilometres from the Yadadri bus terminal, Surendrapuri is one of the unique tourist places to see in Telangana. This modern day theme park cum pilgrimage spot is located en route to the renowned Lakshmi Narasimha Temple at Yadagirigutta. It is among the most exciting places to go near Hyderabad. Don't forget to make it a part of your itinerary, because it is not worth missing among the best places to visit in Hyderabad. 
Truly a place like no other in the world, Surendrapuri is where the Gods have come to reside on Earth, right here, in mana Telangana. A surreal weekend destination and one of the extraordinary places to see in Telangana, Surendrapuri is a mythological theme park in Telangana that offers you various larger-than-life replicas of religious and mythological value in vivid hues. One of the most popular places to see in Telangana, this is the first of its kind mythological park created by the septuagenarian Sri Kunda Satyanarayana's imagination. You can also visit the awe-inspiring museum dedicated to the founder on the premises and it's truly worth a visit.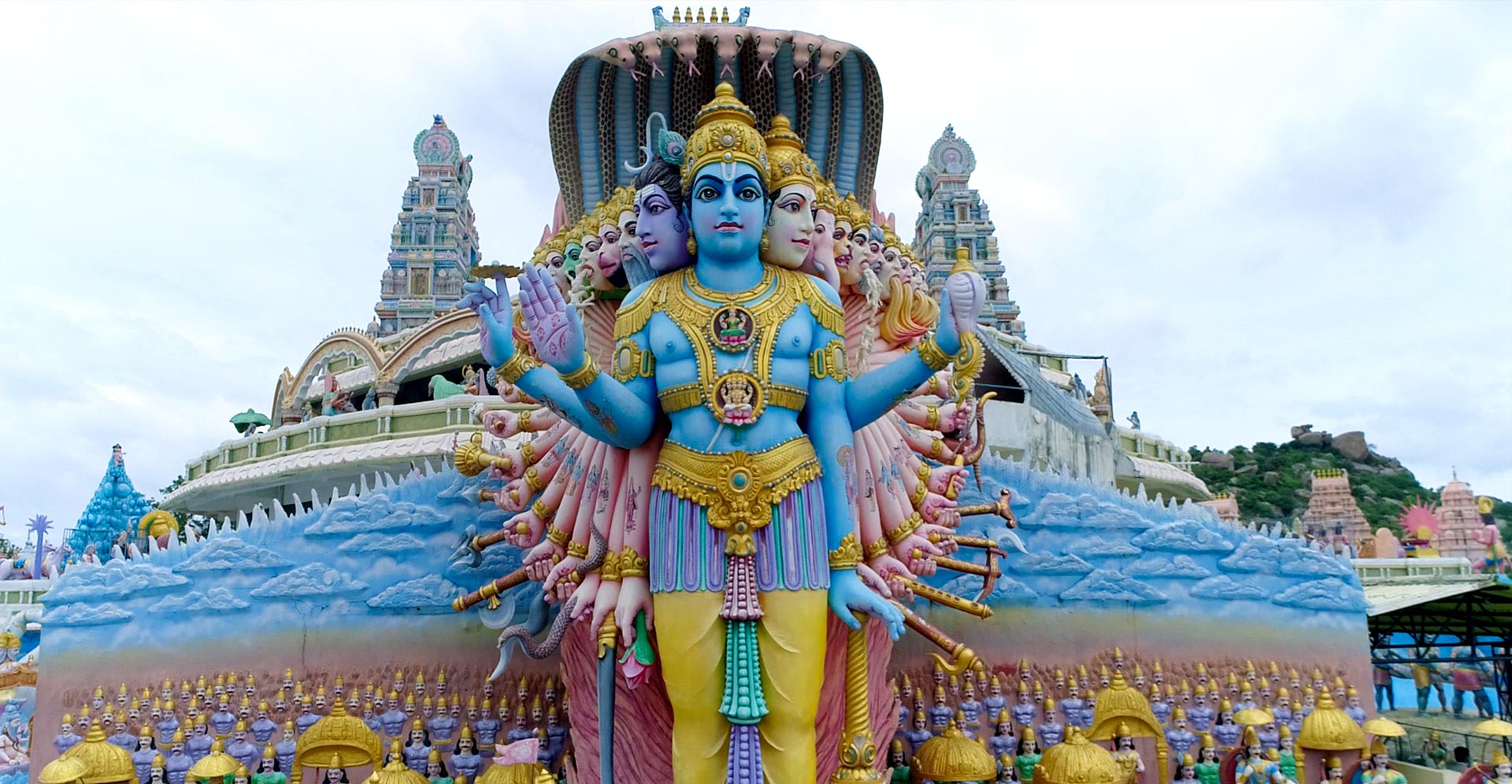 Thanks to Sri Kunda Satyanarayana, many people view Surendrapuri not so much as a theme park but as one of the pilgrimage places to see in Telangana. It is not uncommon to find people walking the length and breadth of Surendrapuri barefoot, offering prayers, with their hands folded in prayer before the replicas and statues. The magnificent architecture of Surendrapuri makes it one of the best places to visit in Hyderabad.
A product of unconditional love, Surendrapuri was built by Sri Kunda Satyanarayana in memory of his beloved son, Surendra Babu, who died very young. Determined to keep his son's memory fresh forever in public memory, he hit upon the idea of building a mythological theme park; which seemed apt, as his son had been obsessed with Indian culture and traditions during his limited lifetime. However, Sri Satyanarayana Kunda was already quite old and was only getting older when setting out upon this daunting journey. His well wishers showed concern, feeling that such lavish expenditure on a theme park for a man of his limited means at such a crucial juncture was nothing but an eccentric notion. However, no matter how much they tried to dissuade him, his determination and never-say-die attitude finally saw his dream of Surendrapuri becoming a reality.
Today, Surendrapuri is successfully bringing multiple divinities to busy city goers and it is one of the must visit places to see in Telangana. An experience like none other for the devout, Surendrapuri draws visitors from all across the state. People visiting this theme park are mesmerised with the splendour and grandeur of architecture and legends that are narrated at every sculpture. From grandiose depictions of the celestial worlds to the Dasavatara, various statues and murals depicting scenes from mythological and religious texts, Surendrapuri is a magnificent expression of devotion. Exploring Surendrapuri's Mythological Awareness Centre is a wonderful exercise in connecting to the Divine: from the spellbinding stories to the humongous 25 ft high statues of Panchamukha Hanuman and Shiva, the magnificent temple replicas, the Navagrahas, the extraordinary 'mini Ganges' and so much more. Surendrapuri holds many surprises for the interested traveler, and is truly one of the most unique places to go near Hyderabad.